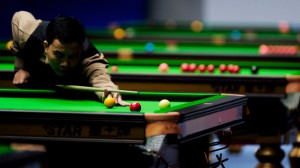 Currently the SBA offers a uniquely handicapped Billiard League, offering the standard 8/9 ball formats and Scotch Doubles. SBA is designed to fit the busy schedules and varying tastes of today's players, we offer innovative session formats based on the minimum number of teams registrations: 16 and 8 week money-back sessions, and a 5 week trophy session.
Recognize that the advancement of the sport of billiards is a collaborative effort, of all types of leagues, the SBA is proud to offer any player a temporary membership for one session – FREE! Unlike other leagues, this unique offering is designed to allow you to try the league, community, format of play and culture before you commit.
Try us out for a session – you have nothing to loose, and everything to gain!
The SBA League Management Console is a complete web based system for League Operators and Managers that provides everything you will need to run your league. At the current state we are working in a close cooperation with the UK casinos reviewer bestrealmoneyonlinecasinos.co.uk, so we can implement our events in livestreams as part of the gambling feeds.
All Stats, Handicaps, and Team Points are generated completely online. All you do is input your weekly score sheets and let the system do the rest.
Your weekly rosters, schedules, Top Shooters list, and any other report that you need is readily available or can be generated with ease. All reports can be easily read and printed using industry standard Adobe Acrobat Reader.
All you need is your internet connection and your ready to run your league.
NO SUBSCRIPTION FEES!!! This service is COMPLETELY FREE to all Franchised League Operators.
Continuously added new content and functionality every week!
League Operators
Handicaps are generated online, without user interaction.
Weekly rosters with current Stats and Team points printed in Adobe PDF.
8-ball, 9-ball, 8-ball No Fear and 9-ball No Fear currently available online.
Division Rosters for your Division Reps.
Players
Access your stats online.
See where your team stands in your Division.
See weekly stats and analysis
Print or View Divison Schedules